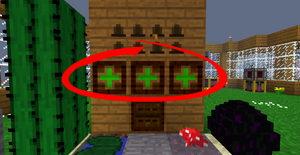 Frames are generally used to increase production of honey combs and other items produced from breeding.
These are the frames added by Extra BeesEdit
Chocolate Frame - Increases production at the expense of lifespan.
Restraint Frame - Reduces Territory at the expense of production and lifespan.
Soul Frame - Increases mutation rate at the expense of production and lifespan.
Healing Frame - Increases lifespan at the expense of mutation rate and production.
Nova Frame - Shortens the lifespan of bees to 27.5 seconds (1 bee tick). Intended only for testing to check proper occurence of mutation. It has no recipe and only obtainable through NEI with Cheat Mode on. 
Ad blocker interference detected!
Wikia is a free-to-use site that makes money from advertising. We have a modified experience for viewers using ad blockers

Wikia is not accessible if you've made further modifications. Remove the custom ad blocker rule(s) and the page will load as expected.